Harnessing the Power of Women for Asia-Pacific Prosperity: The APEC Women and the Economy Forum
May 29, 2014
Last week, IWDA CEO Joanna Hayter travelled to Beijing as a member of the official Australian Government Delegation to the annual Asia Pacific Economic Cooperation (APEC) Women and the Economy Forum (WEF). Engaging with the theme "Harnessing the Power of Women for Asia-Pacific Prosperity", Joanna joined Australia's Ambassador for Women & Girls Natasha Stott Despoja and five other women leaders from government and the private sector including representatives from the Department of Foreign Affairs, AusTrade and the Office for Women.
APEC is a key vehicle for deepening Australia's economic engagement and integration with the Asia-Pacific region. Australia was a founding member of APEC in 1989. Its 21 member economies now account for over 70% of Australia's trade in goods and services. APEC's vision is to strive to achieve strong, sustainable, inclusive and balanced economic growth in the region.
In addition to the Women and the Economy Forum, Joanna was a member of the official delegation to the Policy Partnership on Women and the Economy (PPWE) meeting. This important thematic platform of APEC is composed of members of the public and private sector from 21 APEC economies and was established in 2011 to create a single public-private entity to streamline and elevate the influence of women's contributions towards economic growth and foster women's economic empowerment across the APEC region.
IWDA firmly believes that the full potential of women to contribute to the regional economy remains untapped. APEC itself acknowledges that the traditional growth pattern in the region is unsustainable.
Advancing women's economic participation rests upon a foundation where women have increased access to markets and capital; where women's skills, capacity and health are emphasised to prepare us for success in the workforce and in business; where women's leadership is visible in all spaces and places; and where technology can advance economic sustainability through women's business enterprises and innovation. The work of the PPWE is of vital strategic significance in solidifying and mainstreaming this foundation. At this year's meeting, a new strategic plan to address these matters was circulated.
IWDA's contribution last week drew upon the breadth and depth of 30 years of partnership and experience in the region addressing these issues. Power, safety and economy – the key factors in achieving women's rights and gender equality, at home and abroad.
This year APEC WEF gave emphasis to a course of action for the region in three areas:
Women and green development
Women and regional trade and economic cooperation
Policy support and women's economic empowerment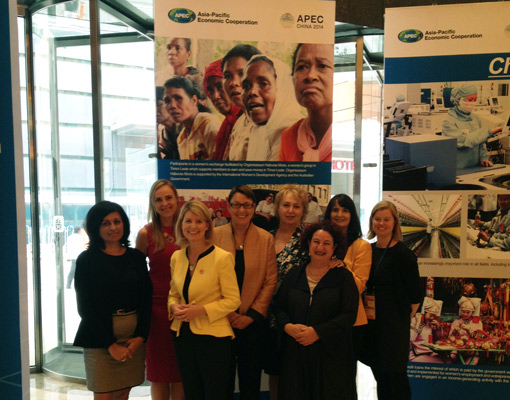 Women and green development
IWDA knows that women have a critical role as contributors to green development. At the Women & the Economy Forum we were able to draw upon our experience of successful programs working on sustainable livelihoods for women, particularly in Papua New Guinea and Solomon Islands.
At IWDA we regularly see the impacts from the depletion of natural resources, environmental degradation, uneven development, climate change and natural disasters. IWDA's continued investment in women-led organisations in our region has strengthened women's leadership to enable greater participation in the discourse on economic development, social progress and environmental protection and management linked to sustainable livelihood initiatives and small business enterprises. We support organisations like Live and Learn Environmental Education in Solomon Islands and Wide Bay Conservation Association, a woman-led initiative in Papua New Guinea that both aim to increase women's visibility in natural resource management and alternative energies in areas heavily affected by logging and/or mining.
Women and regional trade and economic cooperation
Across all APEC economies, major gender disparities continue. The APEC WEF Statement is clear on the measures required to bring about balanced and inclusive economies.
Employment and salary conditions, access and quality of jobs including in the informal economy where women's work is unpaid or under-valued and the promotion of family-friendly policies and laws or workplace practices that fight discrimination or harassment are the starting point.
IWDA program partnerships in Timor-Leste paint this picture very clearly. Three out of five women are not paid for their work. IWDA works with partner organisations such as Covalima Community Centre in Timor-Leste to build women's entrepreneurial and leadership skills so they can start up and run micro-businesses. The challenge is to enhance these capabilities so women are able to take better advantage of local or global supply chains or take advantage of government procurement programs and expanded sales in existing markets.
APEC WEF identified clearly the benefits and opportunities for women in the e-commerce space. Exciting case studies emerged where women expressed their satisfaction with the self-employment opportunities that comes from linking information and communication technologies with e-commerce ideas. Women described these areas as often being cheaper, faster and smarter ways of entering small business. So many of the traditional barriers such as society's gender stereotypes about what kind of work is women's work or systemic access to credit or capital are then by-passed.
Policy support and women's economic empowerment
The statement from the Women & the Economy Forum also called on governments to recognise that women will only reach their full economic potential with the support and enforcement of appropriate policies and laws. Increasing women's labour force participation is not enough.
The barriers are well understood by IWDA. We know that women face unfair wage gaps and discriminatory laws, regulatory environments and policies. The cultural impediments from gender stereotypes and the gender bias in the mindset of senior leadership prevent individuals from realising their full potential.
In Cambodia, IWDA is working with the Worker's Information Centre in Phnom Penh. The garment workers are primarily young women enduring low wages, forced overtime, sexual harassment and inadequate legal protections. This important service agency is providing safe spaces for female garment workers to attend education and training that prepares them for success in the workforce. Through the centre, women employees gain skills to represent themselves at tribunals and hold events advocating for a higher minimum wage.
IWDA fully supports the Women & the Economy Forum's call for APEC economies to advocate gender equality across society and identify and eradicate social and cultural barriers that restrict women's full participation in the economy. Our Pacific Women's Leadership Program captures the interventions required to ensure women are neither excluded nor under-represented in civil or political leadership roles in future. Civic education, addressing childcare provisions, regulatory reform, access to training and information exchange are the foundations for change.
Strong, sustainable, balanced economic growth in the APEC region that is inclusive and enables women to succeed and advance can only emerge with new forms of investment and increased accountability of leaders. This will take committed collaboration between the public and private sector, academia and civil society working across a multitude of forums, both within APEC and in synergy with other mechanisms such as ASEAN and the G20.
Read the full outcome statement from the 2014 APEC Women & the Economy Forum at the APEC website.
Follow Joanna Hayter on Twitter: @IWDAExec