Friday Feminist sHERO: Farewell to our Favourite FLOTUS
January 20, 2017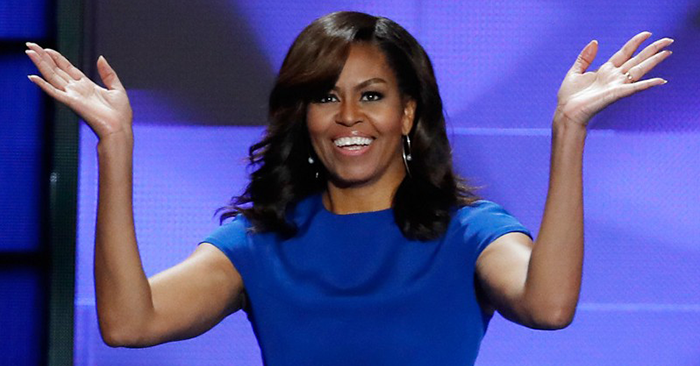 In a matter of days, Michelle Obama will leave her post as First Lady of the United States. Despite being married to the most powerful man in the world, Michelle was never in his shadow. A high-profile lawyer in her own right, Michelle has never let her position stop her from speaking the truth and showing some courage. We're all about it.
Here are just a few reasons she's kept us captivated for eight years.
Her courage in calling out sexism
Michelle has made it a mission to challenge misogyny, shut down sexist remarks and question traditional gender norms. She's spoken to a room of girls and telling them to put books before boys and get the best education they can. She has repeatedly condemned inappropriate treatment of women in the workplace, the abuse on the street and the sexual harassment women have to deal with every day. And during the recent electoral campaign, she perfectly took down Donald Trump without even saying his name.
Her work
The First Lady can hold her own when it comes to accolades – she's a Harvard Law School graduate who's worked everywhere from a top-tier law firm to the University of Chicago Hospital. The Let's Move! Campaign she founded addresses America's huge issue with obesity, and she was a vocal supporter of #bringbackourgirls, calling for the return of schoolgirls kidnapped by Boko Haram in Nigeria. But her greatest legacy lies in Let Girls Learn, the organisation she founded with her husband to address the roadblocks preventing girls from attaining a quality education.
Speaking out for black rights
Michelle has never shied away from speaking out against the racism and inequality that plagues America. We all remember the iconic quote "I live in a house built by slaves". But it's not the only time she's acknowledged fractious race relations in the US. She's called for more diversity in entertainment, or dealt with a deluge of personal racist attacks with pure class, and spoke about how important it is for young African Americans to see that people like them can be in positions of power.
Today, Michelle Obama has left the White House, but we're positive it's not the end of her influence. We're excited see what this phenomenal lady does next.