Cyclone Pam in Vanuatu
March 16, 2015
On Friday, Vanuatu was hit by Cyclone Pam, a category five storm. Communication networks and transportation have been cut off. We are yet to learn the full extent of the devastation but we know the entire population of 260,000 has been affected by the cyclone. Tens of thousands will face difficulties securing food and shelter over the days and weeks to come.
While IWDA does not currently have active program partnerships in Vanuatu, we are providing gender technical advice and training for a water, sanitation and hygiene program in partnership with Live and Learn Vanuatu and International Water Centre. Having worked there throughout the 1990s and 2000s, we have personal connections through the NGO family and women's rights networks.
We have been reaching out to our friends and networks to find out how they're doing and offer support. Communications remain difficult and we have limited information at this time.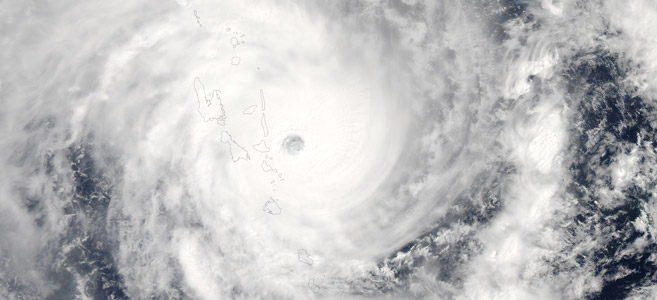 IWDA's focus is on partnering with local organisations on long-term development priorities. As such, we are not directly engaged with disaster relief. Please visit the website of the Australian Council for International Development (ACFID) for a full list of member agencies that are responding to the Cyclone Pam emergency.
IWDA works with other NGOs through the ACFID Gender Equality Working Group to encourage full integration of gender considerations in emergency and disaster needs assessment and response. A gender perspective is critical to seeing and responding to the specific needs of women and men, girls and boys, in the aftermath of natural or other disasters.
We urge all NGOs involved in the Vanuatu cyclone response to include gender capacity in their response teams and consult directly with local women and girls and their organisations. We also reaffirm that Pacific states are particularly vulnerable to the effects of climate change, and call on decision-makers to ensure that the needs of women and girls are fully integrated into national climate resilience strategies.
Thank you to those who have contacted us to express solidarity with the people of Vanuatu. As we continue to reach out to our friends in the coming days, we'll pass along your collective message of support.