Creative expressions: 16 Days through community media
November 16, 2012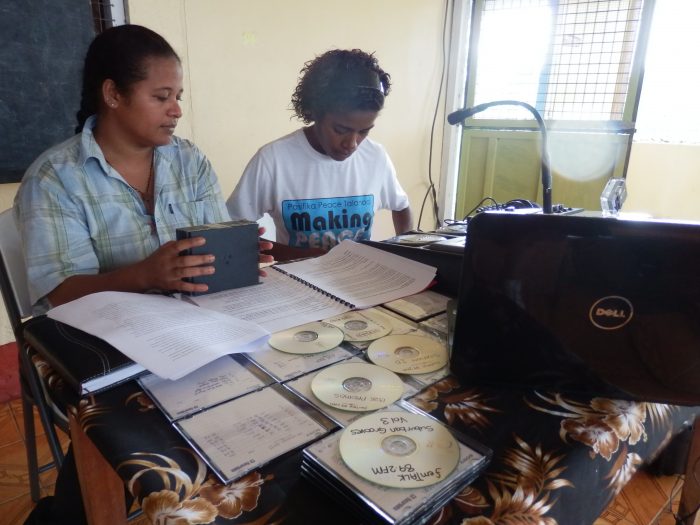 Suva, Fiji Islands
15 November, 2012
Ahead of fem'LINKPACIFIC's annual 16 Days of Community Radio Campaign 22 young women producers and broadcasters from Suva, Nausori and Labasa will be creating messages to communicate linkages with the Fiji Women, Peace and Human Security Campaign and the global campaign dedicated to ending violence against women.
It will all be happening during a three-day interactive learning program from November 19 – 21 which will connect global commitments to women, peace and security as well as feminist approaches to communications which will be co-facilitated by team leaders from fem'LINKPACIFIC's Generation Next project and Dr. Vanessa Griffen and Shirley Tagi.
This is the fourth training initiative undertaken by fem'LINKPACIFIC through its Generation Next project for young women producers and broadcasters in 2012 with the support of IWDA and the European Union.
"The interactive learning program supports young women's leadership capacity as well as provides space for young women themselves to discuss and develop messages they feel are important as well as identifying a range of community media possibilities in order to communicate the theme for the global campaign which once again is 'From Peace in the Home to Peace in the World: Let's Challenge Militarism and End Violence Against Women!'" says fem'LINKPACIFIC Executive Director, Sharon Bhagwan Rolls.
Currently through fem'LINKPACIFIC's Generation Next project 19 young women based in Suva and Labasa are producing a range of radio programs as well as operating two suitcase radio stations known as FemTALK 89FM. They are also supported to produce cartoons, digital stories and indie-media productions such as the 'Sian and Tamara Show' for distribution through social and independent media channels.
"The interactive learning will challenge the participants to think about the impact they want to make on their audience. It will assist in amplifying young women's voices through the 16 Days campaign," says Bhagwan Rolls adding that the Interactive Learning will also enable 10 young women to access and learn about the practical operations of the suitcase radio station in Suva and contribute to building a cadre of community radio broadcasters based in Fiji.