Connect the facts
May 14, 2014
In the Highlands of Papua New Guinea, close to 100% of women experience violence from their male partner.
Only 2.7% of national parliament seats in Papua New Guinea are held by women.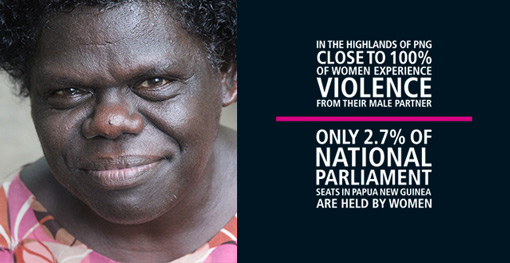 What's the connection?
It's not rocket science. If women hold only three seats out of 111 in Papua New Guinea's national parliament, it does affect the way parliament runs its business and the issues it addresses. One hundred and eight men may bring a range of views and skills to decision-making. But they simply cannot bring the direct experience of being a woman in Papua New Guinea. With a 64% chance of experiencing violence from a male partner – close to 100% in the Highlands – increasing women's participation in decision-making and leadership matters.
Connect the facts
This imbalance in political representation is huge. It is also a brake on better governance – you can't exclude 50% of the population and expect politics to be democratic.
Having more women in parliament broadens the range of experiences and perspectives informing decisions. Issues such as public infrastructure, health, education, violence against women get more attention and funding.
It's hard to imagine that a security issue facing so many Papua New Guineans wouldn't be a higher priority if the women who experience that violence made up more of the parliament. Women's under-representation also influences what communities expect of parliamentarians and whether women can imagine being one.
Supporting women in Papua New Guinea to contribute to decision-making at all levels, including standing for election, will help to transform the attitudes that underpin epidemic levels of violence against women and the profound under-resourcing of violence prevention, crisis and response services.
If you agree with us that women's rights are connected, please invest in equality – donate to IWDA before 30 June to reduce your tax this year and make a positive difference for women in Asia and the Pacific.