Cambodian Women Garment Workers' Fashion Show to Highlight Unjust Work Conditions
May 23, 2014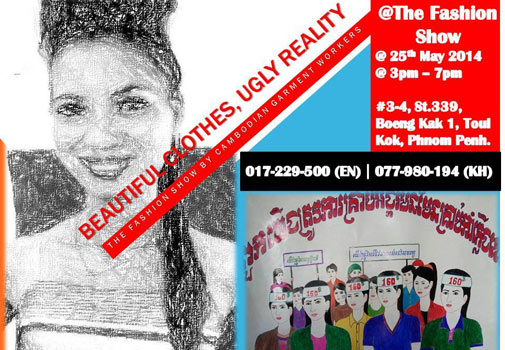 On the 25th of May 2014 IWDA partner the Workers' Information Centre (WIC) will be holding a fashion show for Cambodian garment workers in Phnom Penh.
Under the title "Beautiful Clothes, Ugly Reality", the goal of the event is to highlight the income gap between the workers and the CEOs of brand-name companies. In doing so they aim to hold brand leaders accountable for the current deadlock in their struggle to increase wages and improve workplace conditions.
A halt in the garment workers' fight for a living wage came about in January 2014, when Cambodian military police opened fire on protesters, killing five people and injuring 20 more. A ban on public gatherings was enforced following the event.
Despite the violence that was inflicted upon them, the workers have remained steadfast in their campaign to have wages increased from the current US$61 per month. The "Beautiful Clothes, Ugly Reality" fashion event will call on stakeholders, and the Cambodian Government in particular, to put an end to violence and to increase garment workers' rights across Cambodia.