Cambodian Garment Workers – Empowerment and Action
March 3, 2014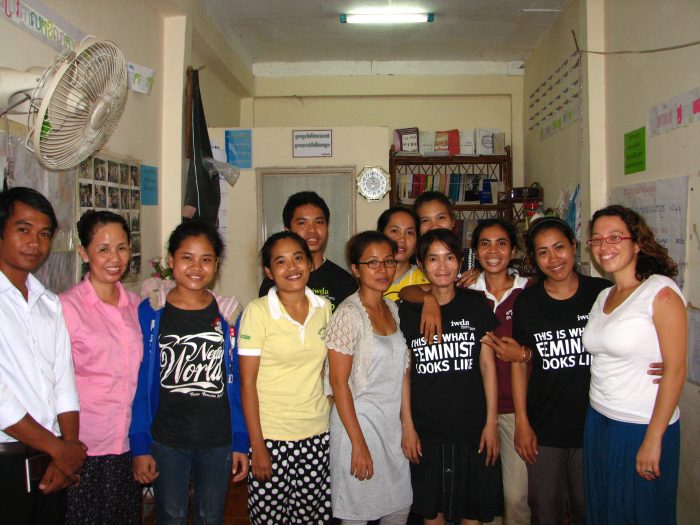 Some of us will have celebrated the festive season at the end of last year by giving or receiving an item of clothing – perhaps a new pair of pajamas or a scarf. Many might have been unaware that on 24 December, the women garment workers in Cambodia who make these items were on strike, protesting for their basic right to fair pay and working conditions. Or that 156 years earlier, on 8 March 1857, women garment workers on the streets of New York City protested for exactly the same rights, a protest that garnered global momentum and became the foundation for International Women's Day.
Textile manufacturing is Cambodia's biggest foreign currency earner; worth some $5 billion, it accounts for over 80% of the country's exports. Ninety percent of the industry's estimated 400,000 employees are women. Many garment workers are young women from rural communities who are supporting their families. While their labour is contributing substantially to Cambodia's economic growth, in 2013, women garment workers earned a minimum monthly wage of US $80 significantly less than the US $150 required to meet basic needs. Consequently, they often have little practical choice but to accept excessive overtime hours. For women who also have caring responsibilities, this has a huge impact, on them and their families.
IWDA's partner, the Workers Information Centre (WIC), is based in Phnom Penh and works directly with women garment workers to support empowerment and education around workplace rights. They run drop-in centres in Phnom Penh which provide access to legal and healthcare advice, as well as leadership and advocacy skills. Over the last 12 months, WIC reached 1,184 women garment workers, including organising 30 sessions on labour law, negotiation skills, and labour rights.
The centre also supports women's voices within the union movement, encouraging decision-making within unions, the garment sector and local communities: making space within male dominated unions for women's issues to be heard, prioritised and responded to. The women of WIC work together, share advice, and talk about the issues that affect them at work.
As a result of their involvement with WIC, workers are challenging their managers when they are paid incorrect amounts or forced to work overtime. In 2012 they represented themselves at People's Tribunal on a Living Wage as a fundamental right of Cambodian Garment Workers.
WIC also works with buyers to gain support for monitoring and improving working conditions involved in producing clothes for various global brands. Last year they evaluated 45 factories against agreed global industry standards.
Tragically, on 3 January, the Cambodian military police opened fire on garment workers in Phnom Penh striking for a living wage. At least five people were killed and over 20 injured as they protested the Ministry of Labour decision that the minimum monthly wage for the industry would increase to US $95, rather than the US $160 being sought.
WIC's Interim Coordinator, Sophea Chrek, believes that the current minimum wage for garment workers violates Cambodia's labour law. The law states that the minimum wage, 'must ensure every worker of a decent standard of living compatible with human dignity'.
International Women's Day on 8 March is a day to remember the women who have fought and continue to fight for basic rights, from the right to vote to the right to decent working conditions.