'Beautiful Clothes, Ugly Reality': Cambodian women garment workers' fashion show
May 30, 2014
On Sunday 25 May, IWDA partner organisation Worker's Information Centre (WIC) in Cambodia held a fashion show to highlight the income gap between garment workers and the executives of the clothing brands whose clothes they sew.
Called 'Beautiful Clothes, Ugly Reality', the fashion show at WIC headquarters in Phnom Penh featured garment workers modelling clothes produced at the factories where they work. The show also included a reenactment of the January police violence that led to the deaths of five garment workers. Workers in riot gear costumes faced off against workers wearing headbands from the campaign for a $160 minimum wage.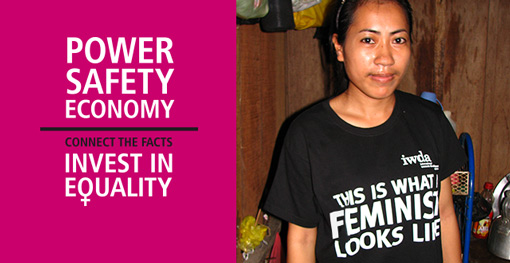 Garment workers, who are mostly young women, receive less than US$100 per month for their work. They also face discrimination, harassment, forced overtime and other unfair working conditions.
Chrek Sophea of WIC said, 'We wish to inform to Australians, especially those who use these brand companies' products to know about the Cambodian garment workers' situation and take part in holding the brand companies accountable by asking them to commit to solve the current minimum wage campaign deadlock.'
The day after the fashion show, representatives of eight international brands met with Cambodian Government officials in Phnom Penh to discuss the garment workers' demands. In a positive step, the brand representatives affirmed their support for a higher minimum wage for garment workers.
If you agree with us that women's rights are connected, please invest in equality – donate to IWDA before 30 June to reduce your tax this year and make a positive difference for women in Asia and the Pacific.