A message from IWDA's CEO for International Women's Day 2014
March 1, 2014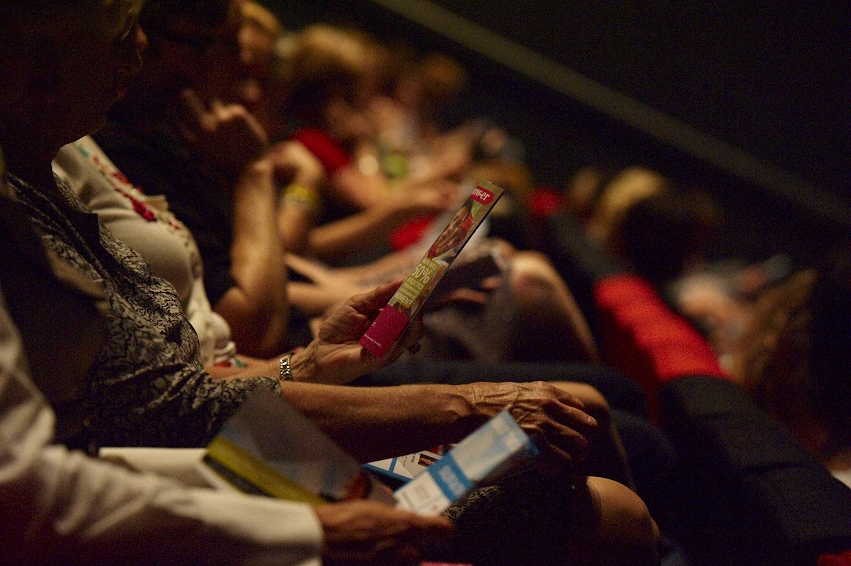 Excerpts from speech by Joanna Hayter, IWDA Chief Executive Officer at 'Half the Sky' Event, Melbourne March 3rd 2014
Happy International Women's Day everyone! Tonight's event will share views about gender equality and development from the government, business and community sectors.
I want to start off with some brief comments relating to the current policy context. I know that many of you share our concerns about the future of the Australian aid program and how IWDA is positioned looking ahead.
The starting assumption for Australia's aid program must surely be that it equitably benefits women and girls, men and boys and helps ensure a child's life chances don't depend on whether they are born a boy or a girl.
I believe we have reached a point where it is recognised as incontrovertible that gender equality matters and is understood as central to achieving the long term changes that our development work seeks to enable. Changes that will see a world where women and men interact with dignity and respect, and where women have an effective voice in economic, cultural, civil and political systems and processes.
Gender equality matters and is here to stay as a priority. It certainly matters to our new Foreign Minister, who I also warmly congratulate on being our nation's first female Foreign Minister. It also matters to Minster Cash who will lead Australia's delegation at this month's Commission for the Status of Women meeting at UN headquarters in New York.
However, what we continue to see in regards to our aid program is 'policy evaporation' in the move from commitment to gender equality to implementation and resourcing. This is not a new challenge, nor one unique to Australia. The challenge before us remains to see policy commitments – from government, the business and community sectors – matched with investment and accountability.
Individuals and institutions have made these policy commitments on the premise that gender equality matters; now what we need to see is the matching of resources to the words that we hear to bring truth to these statements.
The Department of Foreign Affairs and Trade's focus on effectiveness and efficiency – appropriately applied and effectively measured – combined with what we do and what we fund in the post-2015 global context, has within it the potential to see more change towards gender equality in the next two years than we have seen in the last generation. How we engage with government, as IWDA, through all of our relationships with other civil society organisations and networks, matters deeply at this moment in time.
So, how is IWDA inspiring change?
Let me try to cascade this for you in regards to IWDA's work on women's safety and security.
I warmly welcome Olinda Cardosa from ALFeLa, one of IWDA's partners in Timor-Leste. ALFeLa is a remarkable new NGO based in Dili that has pioneered legal aid for women and children in Timor-Leste. They are really busy – and not just in providing services in response to cases of rape, incest and domestic violence but also in their advocacy role in law reform and legislative development in a nation that only formally gained independence in 2002 and is building a judicial system from the ground up.
IWDA is proud of our 30 year history in partnering with and collaborating for change that is truly transformational. We are proud of our expertise and proud of our specialisation. We are proud of our work to make issues visible and support local organisations doing the same.
When people ask me to describe what we do and I begin to explain one of our key priorities – women's safety and security – they are not expecting me to also say that this means resourcing groups that are trying to stop women being burnt as witches or beheaded as sorcerers. Our front line work in Papua New Guinea supporting the Women's Human Rights Defenders Network is confronting and dangerous – but it is the right thing to do and the reason IWDA is here.
From our local partnerships in places like Timor-Leste or Papua New Guinea, we move to national programs, where IWDA has had the wisdom to stay the course, over many years. So many of our country programs are in fragile states. Fiji is perhaps the best of stories to tell right now. For over 20 years we have worked with women's organisations. Our program began with supporting tiny NGOs of 3 or 4 women concerned about women's legal rights or trying to set up a small suitcase radio project or mobilising 1-2 woman teams as mediators and peace builders across government and community. IWDA now sees a nation in historical transition. Our own government has re-engaged with Fiji in a period of détente in the lead up to and hope for a democratic election this year. I am proud to say those tiny NGOs we began supporting over 20 years ago are now major and vocal leaders in the process of transition to democracy and are visible and vocal as regional representatives in the highest level forums around the world, as we will see again in New York in the next couple of weeks. Our relationships, our partnerships have evolved through time. From beginnings in community development to alliance in political strategy and nation building. This is the story of IWDA.
We are also facilitating collaboration and exchanges between organisations in different parts of our region. Over the next few months, women leaders and activists from Organisations in Burma and Fiji will meet to learn from and share with each other pathways to political success.
It is so important to me to thank the fabulous women of IWDA as part of marking International Women's Day. To my staff and volunteer team I thank you. To the IWDA Board and to all of you here tonight as our ongoing supporters and sponsors, I thank you. You know, we don't just recruit skills and experience when we employ people – we attract women with a determination for change for women's rights and gender equality on our patch of the planet. Driven and courageous. You are marvellous one and all.
Beyond changing the world, we are also changing offices this year! If there are any interior designers, IT gurus, archivists or just generally wealthy people who would like to buy us a building or offer subsidised floor space in your existing buildings – please get in touch – there are many ways of helping the cause, and not all of it looks like work in the highlands of Papua New Guinea, the borders of Burma or the Islands of the Solomons!
So, in closing, may I say good evening, wish you Happy International Women's Day and invite you to join us again next year for our 30th birthday party. Thank you.